Products - Power System Engineers - Vibration Isolator

Bufflex produces a wide range of innovative products to address vibration and sound control for major industries such as HVAC, oil & gas, petrochemical, utilities, industrial & heavy machinery, etc.
In general, all products are certified to ISO 9001:2000 as quality is our commitment to customers.
Some of our bestselling products: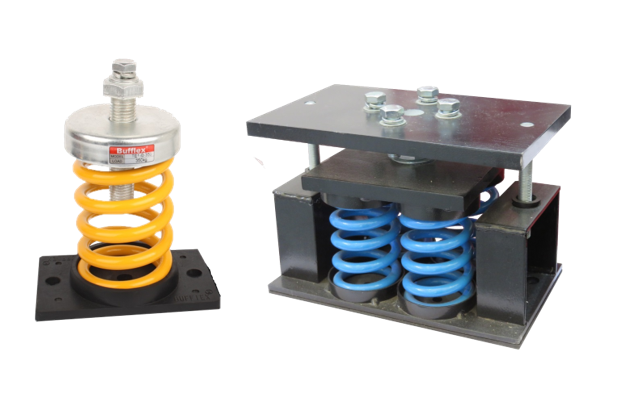 BZE/BZF FREE STANDIN SPRING MOUNT VIBRATION ISOLATOR
Features
Four types of deflection 25mm, 50mm, 75mm & 100mm available for selection
Set up easily and static displacement of spring can be visually checked easily
Single spring element and multiple spring elements of 2, 4, 6 coils available for more applications
All the outside diameter of the spring elements is greater than 80% of the height of the compressed spring element at rated load
Color coded springs to facilitate identification
The lateral spring stiffness is greater than 1.5 times of the rated vertical stiffness
The height of the isolator is adjustable by eternal levelling bolt to ensure the equipment running more stable and secure
An 8mm thick ribbed rubber damping pad bonded at the bottom of the isolator to support the weak point of spring with high frequency transmission noise and vibration
Application
BZF are recommended for use in isolating the vibration produced by equipment carrying a large fluid load such as chillers, cooling towers, etc.
BZE can be used in applications requiring inertia bases in addition to spring isolators: pumps, centrifugal & axial fans, etc.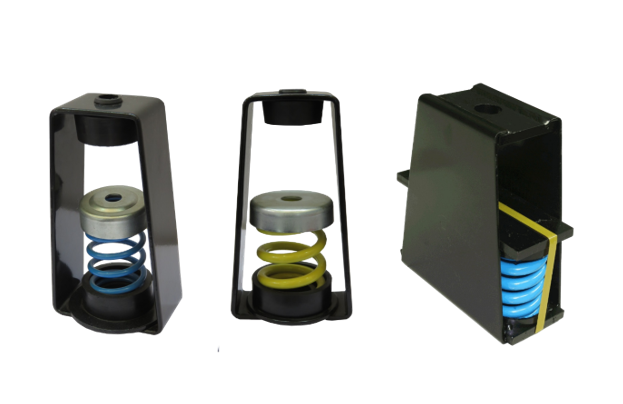 BSS SPRING ISOLATION HANGER
Features
Springs are designed with 50% overload capacity to compensate for unexpected load variations and to reduce operating stress
In compliance with ASHRAE guidelines, springs are designed with a horizontal stiffness of at least 100% of the vertical stiffness, to ensure stability
The rubber element insert are molded from oil-resistant compounds and shall be color coded to indicate load capacity
Epoxy powder coated springs and bracket with a 1000 hour salt spray rating.
The hanger bracket are designed to carry a 500% overload without failure and to allow a support rod misalignment through a 30° arc without metal-tometal contact or other short circuit
The hanger bracket incorporate spring caps with indexed steps which correspond to the washer diameter of the appropriately sized hanger rod to keep the rod centered in the spring cap and reduce rod misalignment
Application
BSS hangers are used to isolate suspended sources of both noise and vibration such as air handling units, piping & ductwork, cabinet fans, inline fans, etc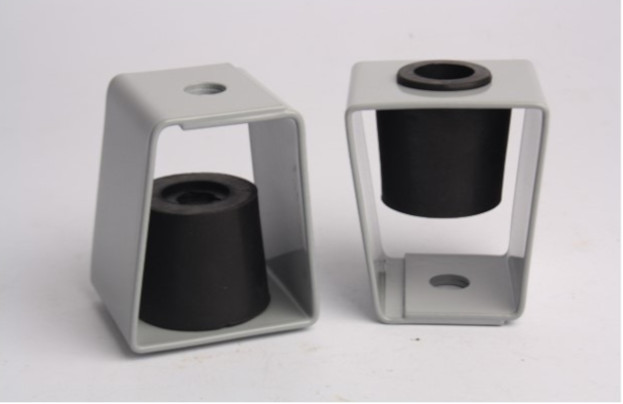 RH VIBRATION ISOLATING RUBBER HANGER
Features
Powder coated mild steel frame
Colour coded rubber elements
Cast in steel disc in rubber element
Allow 30 degree misalignment
No steel to steel contact on rubber element
Application
Typical application includes air handling units, fan coil units, fans & blowers, ducting & piping, etc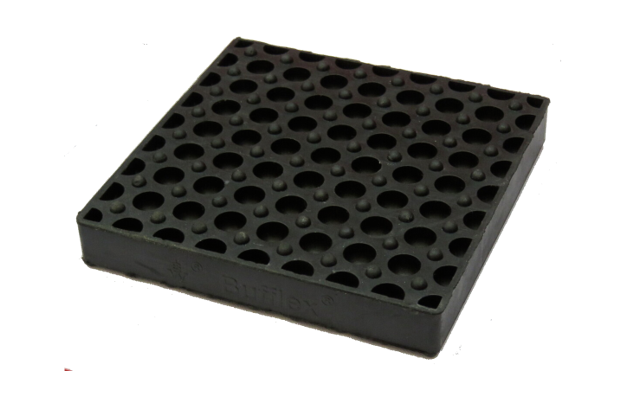 BP RUBBER ISOLATOR PADS
Rubber pads are designed to reduce high frequency vibration, noise and shock generated by mechanical equipment. They are recommended to isolating vibration for packaged air handling units, pumps, etc, and isolation between the pipe and pipe support.
In most cases no anchor bolting is required. Properly designed ribs of upper and lower surface arranged at right angles and optimum rubber hardness reduce effectively against shock and vibration both laterally and vertically, as well as noise caused by vibration.